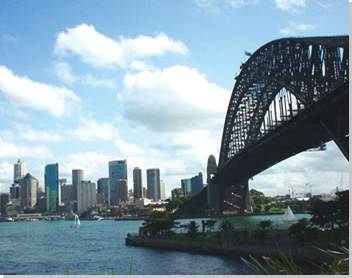 Sydney is the capital city of the state of New South Wales and is located on the south-east coast of Australia. It is a vibrant city full of activity and spirit. With a population of four million people, originating from over 180 countries and speaking over 140 languages it is truly a multicultural city.
Situated on one of the worlds' most beautiful natural harbours, Sydney provides an uniquely outdoor lifestyle, offering an array of alfresco dining venues, parks and an exhaustive choice of outdoor leisure activities. 'Sydneysiders' even have access to more than 70 beaches spread along the city's coastline.
Sydney's natural beauty is enhanced by a diversity of cultures involved in a variety of arts and entertainment activities and enjoying lively shopping and dining precincts, including its very own Chinatown. Shopping in Sydney can be a pleasurable experience and the choice is immense. Budget minded students can shop at the weekend markets for fruit, vegetables, clothing and an assortment of other goods.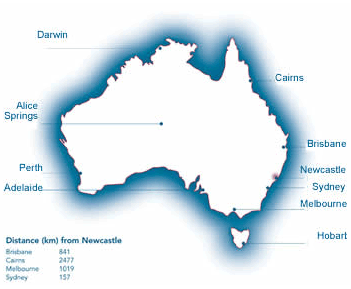 Above all, Sydney is home to a relaxed and friendly community who live, work and play together in this truly unique city.
Sydney, the capital of New South Wales, is Australia's oldest and largest city with a population of around 3,986,700. Sydney is built around a huge harbour and hosts many tourist attractions as well as a number of beaches, bays and a couple of national parks
Sydney has many influences upon its style. Aboriginal sites and engravings can still be seen from the original occupiers, the Eora tribe. The city also has an anglo-mediterranean style and a growing Chinese and Asian influence.
The city is divided into North and South by the Sydney Harbour, with both Sydney Harbour Bridge and Tunnel connecting them. Most of the tourist attractions are in the South part of the city, with a large business and residential area in the North.